So I was looking over my past blog posts, and I realized that there are a ton of awesome books that haven't made it on to any of my top ten lists (or have hardly been featured there) or other book related posts. I mention a few from time to time, but I haven't devoted much space to them.
Anyhow, since I love October, fall, and eerie books, I thought it was high time I recommended ten lesser known books/series that are perfect for this time of year! Now, all spooky books are not created equal (I am really hard to scare, after all). And I mean spooky books here - not horror novels (well, not really).
So I introduce:
THE CREEPYMETER

. 1= Couldn't scare anyone 2= Mild thrills 3= Getting colder 4= A bit unsettling 5= Decently Creepy 6= Kind of Scary 7= Chilling 8= What was that sound? 9= Don't Blink! 10= Never Sleeping Again!
"The wooden jaws rose and fell. They seemed to bite at the waves, to chew them into froth. The head vanished altogether, then leapt from the sea, straining water through the teeth. The yellow eyes shone fierce with spray as the enormous head reared up, then plunged again. And in the sounds of the water, the dragon seemed to roar and breathe." - The Smugglers (The High Seas Adventures #2)
On the coast of Cornwall live the wreckers: people who intentionally wreck passing ships to scavenge for goods and their livelihood. But when The Isle of Skye crashes on their beaches, the youngest crewman survives. John Spencer escapes the wreckage, but can he escape the people who helped his fellow sailors to a watery grave?
Starting with
The Wreckers
, The High Seas Trilogy is a thrilling YA adventure series with a lot of actual history mixed in. If you loved Pirates of the Caribbean, these are the books for you. But I did warn you that they were creepy (and authentically gross, at times).
Series Creepymeter: 7-8
"The village was so far off the beaten road that she would not have been surprised to find the people shy of outsiders - silent, awkward, suspicious even - but she was entirely unprepared for the sort of fear and hatred that had swept over their faces when they saw her with the little boy." - The Perilous Gard
It's 1558, and both Lady Elizabeth and her followers are closely watched by Queen Mary Tudor. When Kate Sutton, one of Elizabeth's ladies-in-waiting, takes the fall for something her silly sister Alicia did, Kate is banished to the gloomy "Perilous Gard" for punishment. Everyone is strange and secretive, and clumsy, straight-forward Kate is determined to get to the bottom of things. What are the villagers so frightened of? What made Christopher, the young lord of the house, so bitter and at odds with his brother? And what is up with the well?
Okay, I know I've plugged this one a bit - but it's just
that good
! If you are
at all
interested in fairy folk legends, historical fiction, the 1500's and Queen Elizabeth, or just a good October yarn, then you have to read this book. And if you like it, Pope wrote another novel,
The Sherwood Ring
, which is a little more
Scarlet Pimpernel
and a bunch of fun.
Creepymeter: 3
"The airship lumbered low overhead, its long, lined belly a dull smear of silvery light in the fog as it reflected the gas lamps of the city beneath." - The Haunting of Alaizabel Cray
Thaniel is a wych-hunter in the darkest corners of London's Old Quarters. He hunts evil, puts it down, and he doesn't get involved, until the lovely (and probably insane) Alaizabel Cray crosses his path. Alaizabel is possessed by a darkness that draws all sorts of nasty creatures, and if Thaniel can't discover how to free her, all of humanity might be in danger.
Another book I might have mentioned in passing, The Haunting of Alaizabel Cray is pretty darn creepy, while still being fun. And it's hard to beat for atmosphere. If you like alternate Victorian timelines, Supernatural, and/or The Mortal Instruments, and you aren't afraid of ALL THE TROPES, read it. Creepymeter: 7
"There was nothing for Tomas now.
Not the singing.
Not the square.
Not the dead.
Not even Sultan.
Just the sword, that flew so fast that the air itself was cut in two.
But the hands grasped and grappled and there were too many. He was pulled from Sultan's back landing clumsily in the mud."- My Swordhand is Singing
Tomas relocates to Chust with his son Peter, raising his son to be a woodcutter. Peter doesn't understand why his father dug water channels all around the house, or why his father carries that mysterious, battered box, or what exactly, his father is running from. But then villagers start to die . . . and come back, and everything changes.
Marcus Sedgwick does not get half the notice he deserves. A spinner of spare, elegant, and truly
creepy
stories, he is truly under appreciated.
My Swordhand is Singing
is a father-son story that happens to involve vampires (which are not glamorous at all!), this is one of my favorite monster books. It's more along the lines of
Something Wicked This Way Comes
than
Dracula
, with a liberal dash of history and folklore.
Creepymeter: 8
'Maddie blinked. A black shadow seemed to lie across his face. His eyes gleamed out through it, brilliantly green. She stooped and lifted the lantern to shine it full on him, but the shadow on his face didn't move.




"Blood," purred the shadow in a thick voice. "Salty, sweaty blood."'-By These Ten Bones
When a young woodcarver comes to town, Maddie is fascinated by his mysterious silence and skillful carvings. Maddie is determined to befriend him, but he has a secret that will destroy everything, and everyone, that Maddie loves. Maddie refuses to stand by and watch his curse take it's course, but how could a simple weaver's daughter defeat an ancient evil?
Continuing the monsters + vivid historical fiction trend, we have By These Ten Bones. Werewolves, Scotland, adorable characters, moody moorland, what's not to like? Creepymeter: 4
"I don't ever want to live in a world where something like mercy...or maybe it's compassion...is the wrong choice." -
Rot and Ruin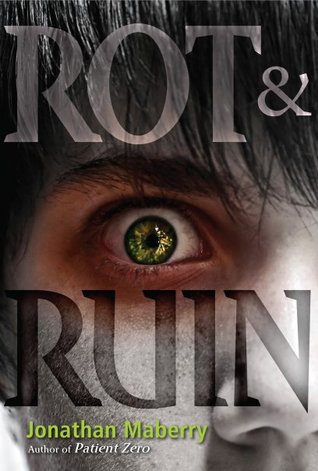 Okay, okay, this is probably the most popular series on this list, and I've plugged them a bit, but they need your
BRAINS
to read them. I love this series so much (uhm, obviously?*), and I want other people to love them too. And honestly, I have a feeling these books are a love-it-or-hate-it thing. But don't be turned off by the zombies, because this series is about courage, loyalty, friendship, humanity, honor, coming of age, maturity, life and death, bonds, bromance . . . and zombies. I won't lie-they are there and they are coming at you-but they're still some of my favorite YA books ever. (And if you like
Attack on Titan
, you'll probably love it)
Series Creepymeter: 7-8 (More gross than creepy)
7. Claymore by Yagi Norihiro
"We are humankind's greatest weapon. Before we existed, humans were powerless against the Yoma. But by using the Yoma's own power, they could finally defeat them. There is one big drawback: half breeds eventually become . . . full blown monsters . . ."-The Silver-Eyed Slayer (Claymore #1)
Claymores are warriors named after the giant swords they carry - women who are half monster, half human, and are the only defense against the terrifying Yoma. Clare is a young Claymore, low-ranked and haunted by a tragic past. Can she fight monsters without becoming one herself, and is she even strong enough to survive?
This is one of my favorite manga series (and the anime is good too). Ridiculously cool women warriors, lots of swords and monsters, and a sinister subplot make this a great series. The art is a bit shaky in the first couple volumes, but once Yagi hits his stride, his composition is spectacular. His Yoma (the monsters) are some of the most horrific, yet beautiful, things I've ever seen. (Be warned, this is not a series for kids, or the faint of stomach.) Creepymeter: 7-9 as the series progresses


"The O was not a number – a zero. It was a letter – the first letter of the word One. But it was far more than that. It was a symbol in itself – the symbol of unity. The perfect circle. Of the complete unit. The never ending. The One.
And the snake? The snake was not a perfect circle. It could never be unified – not even if it began to eat its own tail. The symbol of one who depends only upon itself for nourishment." - The Riddles of Epsilon
After causing more trouble at school, Jess is dragged to the isolated island of Lume by her frustrated parents. Jess is sure she'll be bored to death, but when she encounters a mysterious presence and creepy riddles, boredom is the last thing she'll have to worry about. Jess starts investigating, and she comes across the writings of Sebastian, a boy who was around her age - 100 years ago - and whose experiences on Lume were eerily reminiscent of Jess' own. But the dangers Sebastian encountered don't sleep quietly, and now Jess' whole family is at stake.
I read this book several years ago, but it always pops up when I'm thinking about truly atmospheric creepy novels. Jess is an engaging protagonist, and the combination of chat room conversations, narrative, and diary entries was a clever way to tell the story. Creepymeter: 5


"There would be a spike in the number of girls who went out for a walk in the woods and were never heard from again. There always were when stories came out portraying the terra indigene as furry humans who just wanted to be loved.
Most of the terra indigene didn't want to love humans; they wanted to eat them. Why did humans have such a hard time understanding that?" - Written in Red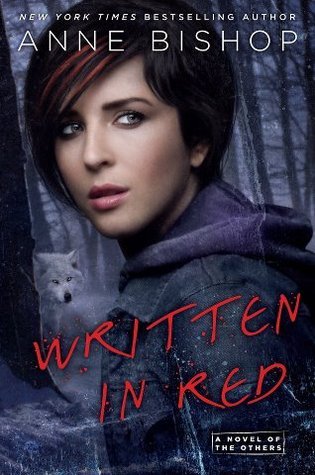 Meg is a cassandra sangue -a blood prophet- she sees visions when her skin is cut. She's lived a restricted life, with her prophecies sold to high paying clients, and her every action supervised by a seemingly benevolent Controller. Until she runs away. But Meg isn't suited for living on her own (according to the Controllers), and she has zero experience in the real world. The real world is an uneasy existence between humans and the Others - powerful beings who inhabit the wild places and supervise the humans from Courtyards in human cities. Meg begs a job from the Lakeside Courtyard, but she's valuable property, and her Controller won't let her go without a fight.
Yet another series that I've mentioned (and it's moderately popular), but it's too perfect for this time of year. Also, this is an awesome urban fantasy series - even if you are sick to death of urban fantasy/paranormal. The Others are fantastic - feral and untamed and neither cuddly nor sparkly. More primeval forces than typical monsters, their power is a looming threat in the entire series. And Meg. I love Meg so much. She isn't kickbutt, or particularly confident, but she's got a warrior spirit, and she is one of the kindest heroines I can think of. (She's reminds me of Sophie in
Howl's Moving Castle
). Her strengths are not standard, and it makes her a standout. I love all the supporting characters too, with their diverse (and often prickly) personalities, and the way Bishop slowly builds their relationships. Note: This is an older teen/adult series, with mature content and themes, some disturbing elements, and a smattering of violence at the end - think
Jane Eyre
meets
Underworld
meets
Grimm
.
Creepymeter: 6-7
"There are fates more terrible than death; weapons more keen than poniards, more noiseless than pistols. Women use such, and work out a subtler vengeance than men can conceive." – Pauline's Passion and Punishment (this story isn't included, I just liked the quote!)
Remember those sensational stories that Jo March tried to sell in Little Women? Louisa May Alcott actually wrote quite a few stories just like that. In A Whisper in the Dark, twelve of her little-known stories are combined for a thrilling, old-fashioned read. The stories run the gamut from philosophical to frightening, with murder and mystery, and gothic secrets galore.
Even if you didn't enjoy
Little Women
,
A Whisper in the Dark
is an interesting literary piece. It's all classic gothic/Victorian thrills, with sympathetic young heroines and some actual depth. Alcott explores everything from womens' roles to psychological terror. After reading it, you might agree with Jo's publishers (stick to family stories!), or you might wish Alcott had taken the other road, but it's interesting reading either way. Creepymeter: 3-4 (this could be subjective!)
If none of these look like your sort of thing, then here are some Bonus Recommendations:
Creepy Classic Novels
The Woman in White
by Wilkie Collins
Dracula
by Bram Stoker
The Phantom of the Opera
by Gaston Leroux
The Picture of Dorian Gray
by Oscar Wilde
Something Wicked This Way Comes
by Ray Bradbury
Rebecca
by Daphne du Maurier
More Popular (but still good!) Creepy Modern Reads
The Dante Club
by Matthew Pearl
The Historian
by Elizabeth Kostova
The Passage
by Justin Cronin
The Thirteenth Tale
by Diane Setterfield
Thr3e
by Ted Dekker
Jonathan Strange and Mr. Norrell
by Susanna Clarke
So, do any of these books look like something you'd read? Have you read any of them? What are some of your favorite October/Halloween/Fall books?
Footnotes
:
*I even have fanart to prove my love (okay, I drew it back in 2012-but still). And yes, he is wearing his pajamas (it's from a scene in the book).