So, once more, I was off having adventures* apart from my computer, and I have neglected my blog. But you just can't blog and drive. Not yet. But I digress (as usual).
I am nearly always confused about what day it is, but my computer decrees that today is Tuesday, which means it's time for the Top Ten Tuesday meme with The Broke and the Bookish. If you'd like to participate, click here.
The theme today is Top 10 Favorite Books I've Read So Far In 2015. Despite my busy work schedule, writing, and marathon driving, I have actually read a lot of books this year. So this might be hard. But I always try, I do.
MY TOP TEN BOOKS OF 2015 (SO FAR)
1. Both Thorn and Sunbolt by Intisar Khanani
You may have read my review of
Thorn
here
(if not,
do it
, or better yet, just read
Thorn
,) and if so, you know I loved this book. However, I liked her novella,
Sunbolt
, even more. Though I haven't reviewed it here yet, I fully intend to, but you need to know that I liked it even more than
Thorn
. From the gorgeous prose to the fabulous world building, Khanani is a talent to watch, and her heroines are both strong
and
realistic. Do yourself a favor and read her books. Now.
"Absolutely. Justice served with a side of pineapple. That's what I'm here for."
― Intisar Khanani, Sunbolt
2. As You Wish: Inconceivable Tales From the Making of The Princess Bride by Cary Elwes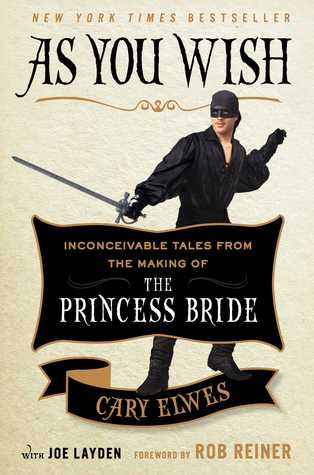 The Princess Bride
is one of my all time favorite movies, and I really enjoyed this genteel, humorous, and thoughtful look behind the scenes. As a bonus, Elwes really comes off as a gentleman and a thinker, which was nice. From backstage anecdotes to touching tributes, this book is a must read for any
Bride
aficionado.
And seriously, if all of that background stuff on the "Greatest Swordfight of All Time" didn't make you pull out your DVD again, I don't know what will.
"like a good wine without iocane powder, it seems to get better with time."
― Cary Elwes, As You Wish: Inconceivable Tales from the Making of The Princess Bride
3. Station Eleven by Emily St. John Mandel
Shakespeare, viruses, aging actors, Michigan locales that I recognized, and so much more made me love this dreamy, nostalgic, and beautifully written novel. It's basically a literary post-apocalyptic novel with real depth and imagination. The way every little detail ties into the plot gave me a severe case of writer's envy. This was the first book of Emily St. John Mandel's that I ever read, and it will not be the last.
"He found he was a man who repented almost everything, regrets crowding in around him like moths to a light. This was actually the main difference between twenty-one and fifty-one, he decided, the sheer volume of regret."
― Emily St. John Mandel, Station Eleven
4. The Silver Linings Playbook by Matthew Quick
"Life is hard, Pat, and children have to be told how hard life can be." "Why?" "So they will be sympathetic to others. So they will understand that some people have it harder than they do and that a trip through this world can be a wildly different experience, depending on what chemicals are raging through one's mind."
― Matthew Quick, The Silver Linings Playbook
5. Black Widow: Forever Red by Margaret Stohl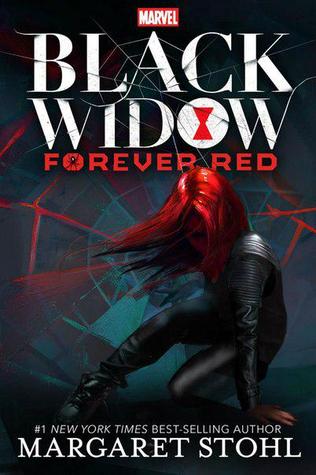 Another book I recently
reviewed
, BW:FR was a fun spy novel that featured one of my favorite Avengers.
As an added bonus, my copy is a signed ARC that I got at BookExpo, which made it extra special.
"Natasha Romanoff hated pierogies—but more than that, she hated lies.
Lying she was fine with. Lying was a necessity, a tool of her tradecraft. It was being lied to that she hated, even if it was how she had been raised.
Everything Ivan used to say was a lie."---Margaret Stohl, Black Widow: Forever Red
6. Red Queen by Victoria Aveyard
Fortunately, I avoided most of that, and didn't read any reviews, so I read
Red Queen
with zero expectations. The fun
X-Men
vibe and treacherous characters made for good reading, and it was far better than a lot of its fellows.
I really liked that the romance wasn't the ultimate plot. (Power, betrayal, family, revolution, and all of that interesting stuff supplanted it).****
"It's our nature. We destroy. It's the constant of our kind. No matter the color of blood, man will always fall."
― Victoria Aveyard, Red Queen
7. Where Women Are Kings by Christie Watson
Where Women Are Kings
was not a "fun" book -- but it was a beautiful, compassionate, heart-rending story about a little boy with a tragic past, his troubled Nigerian birth mother, and the English family who just wants to love him.
"Your story begins in Nigeria, which is a place like heaven . . . Nigeria
is brightness and stars, and earth like the skin of your cheeks: brown-red,
soft and warm." -- Christie Watson, Where Women Are Kings
8. Cruel Beauty by Rosamund Hodge
I just wrote a post about my love for
Cupid and Psyche/Beauty and the Beast
retellings, so I'm sure that this isn't a surprise. What is surprising is that it took me so long to get around to reading it!
From the romance***** to the world to the writing to the concept, I loved pretty much everything about this book, and I can't wait to read more of Hodge's writing.
"Why is he scared of the dark?"

I meant the words for a joke, but Shade nodded seriously. "Like all monsters. Because it reminds him of what he truly is"."
― Rosamund Hodge, Cruel Beauty
9. The Winner's Curse by Marie Rutkoski
The Thief
.
Honestly, what's with the ball gowns in a world based on Ancient Greece and Rome? Naturally, since it's on my list, I really liked it anyhow. It was fluffy but not stupid, romantic but not soppy, and I enjoyed the worldbuilding.
"She saw, yet again, that her friend's compliments were just bits of art and artifice. They were paper swans, cunningly folded so that they could float on the air for a few moments. Nothing more."
― Marie Rutkoski, The Winner's Curse
However, nothing prepared me for how epically horrible the sequel's cover would be.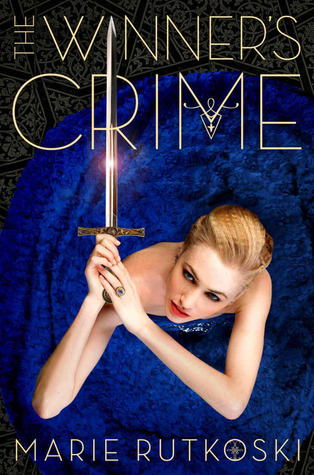 Just LOOK AT THIS FOR A MINUTE----------->
YOU DON'T/CAN'T HOLD A SWORD LIKE THAT, WOMAN!!!
I won't be able to read this one for awhile, no doubt.
10. William Shakespeare's The Phantom of Menace by Ian Doescher
I love both Shakespeare and Star Wars, so obviously this silly series is a hit with me. It's
hilarious
and brilliant, and I have loved every installment. I can't wait for the
Attack of the Clones
one, I'm anticipating more side-splitting humor of this variety:
"QUI-GON: I know not who you are or what you want, Yet I do have skills most particular, Acquir'd throughout a Jedi's long career. These skills do make me nightmarish to such As you. Surrender now, and you shall live— If not, you shall be dead, and there's an end.
MAUL: I'll not be taken by you, man naïve; Your feeble skills are naught when match'd to mine. This is the moment I have longèd for: Two Jedi to assuage mine appetite."
― Ian Doescher, William Shakespeare's The Phantom of Menace: Star Wars Part the First
Footnotes:
*
I drove up and down the country 4 times. Parts were fun, parts were dreary, but I felt like a trucker.
**
I can easily count the R-rated films I've seen. Most of them just weren't good enough to be worthwhile, but this is a matter of opinion. For the record,
Slumdog Millionaire
and
The Fall
were two of the worthwhile ones.
***
The language is foul, often coarse or crass, and there is a lot of cursing. Just an FYI.
****I swear I'm not anti-romance, really. I just get tired of it (especially the shallow faux-love in YA novels), and want exciting swashbuckling things to happen.
*****See, this book is basically a romance, and I loved it. Point. Proven.