Image Copyright: The Broke and the Bookish
I have been absent from Top Ten Tuesdays for too long (I love lists!), and this was a list I'd been planning anyway. Thanks, as always, to
The Broke and the Bookish
for hosting
this link-up
!
I read a lot of amazing books in 2015, and at first, I wasn't even sure how to approach this. However, I finally settled on listing the 10 books that I loved that ALSO made the biggest impression on me this year. So here they are, in no particular order, with notes on why they made it onto the list.
Top 10 Books/Series for 2015
I think that this was one of the most important books of 2015 - as it intimately explores what it means to be a black man in America through the eyes of a father writing a letter to his son. It's raw, emotional nonfiction that is also spare and thought-provoking.
2. Jakob's Colors by Lindsay Hawdon (Adult Fic) - 5 stars
Earlier this year, I had the great privilege of reading a bunch of debut manuscripts with fellow ABA booksellers. We had weekly conference calls (which I miss now), and selected 10 picks to promote in indie stores all over the country. It's probably obvious that this sort of thing takes a lot of cooperation and compromise, and while I liked a lot of the books, my favorite one didn't make the list.* That would be
Jakob's Colors
, a lyrical story about a gypsy boy in 1944, on the run from Nazi persecution, and separated from everything he knows and loves. It is one of my favorite books this year, and you can expect a US release in early 2016.

3. Vision in Silver (The Others #3) by Anne Bishop (Adult Fantasy) - 4.5 stars
I've mentioned my love for this series, but never reviewed any of them here. I plan to remedy that when I read the 4th one though. Basically, this is a series that combines urban, paranormal, and high fantasy, with an extremely detailed world/mythology, and fantastic characters. What made this one of my top picks for 2015? I truly admire Anne Bishop's consistency with these books. After 3 books, I still love the characters, and I am even more interested in the world than before. My only major complaint is the cover art . . .
I've
mentioned this one a few times
this year, but I didn't actually review it.
I can't believe it took me so long to get around to reading this! High fantasy with rebellions, humor, a strong heroine, lots of action, a fascinating magic system, and stellar writing? Just about perfect. Now I have to find the time to read the sequels, and the rest of Sanderson's books.
5. Thorn and Sunbolt by Intisar Khanani - 4.5 and 5 stars, respectively
I'm not really cheating because
Sunbolt
is a novella.
This is probably no surprise to anyone who's been following my blog this year. I randomly discovered
Thorn
while scrolling Goodreads, and decided to buy it because of the cover. That was probably the best shallow decision I've ever made.
Thorn
is an awesome retelling of "The Goose Girl,"and you can read my full
review here
. I liked it so much, I immediately ordered Ms. Khanani's novella,
Sunbolt
, which I immediately fell in love with, as evidenced by
my review
.
6. Naruto (the manga) by Masashi Kishimoto (yes, the entire 72 volume series) - 5 stars
Laugh all you want, but I binge-read the entire manga in about 2 months and
it was epic
. I originally read the first volume when I was fifteen or sixteen, saw how many there were and that it was ongoing, and shelved it (for 10 years, lol). But after reminiscing about it with a friend (and seeing that the series was finally ending), I decided to reread it. And it hooked me all over again. And it has the august distinction of being one of the 10 fictional things that have actually made me cry. I am without shame.**

7. Wolf by Wolf by Ryan Graudin - 5 stars
No surprise here. I wrote a glowing
review of this book
back in September. I loved
The Walled City
(also by Graudin) and I feel like
Wolf by Wolf
topped it completely, and her writing just gets better.
8. Six of Crows by Leigh Bardugo - 4 stars
Looking back over all of the books I've read this year, I realized that this was one of the ones I enjoyed the most, and also one of the most memorable ones. It's a very promising start to a new series for Ms. Bardugo, and I'll definitely read the sequel. But the best part about this book was THE HEIST part. And the fascinating cast of scalawags, as well. You can find
my review here
.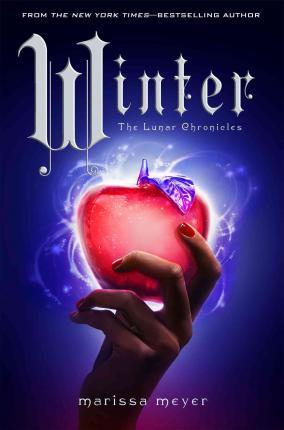 9. Winter by Marissa Meyer - 4.5 stars
If you are a Lunar Chronicles fan, this will probably be on your list. It wrapped up the series with a bang, and was a lot of fun. You can
read my review (spoiler free!) here.

10. Station Eleven by Emily St. John Mandel - 4.5 stars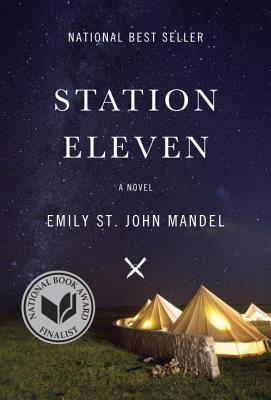 Another book that needs no introduction. Beautiful prose, travelling players, quotable lines, SHAKESPEARE, and the apocalypse made this a winner for me. I liked it even better after I went to a mixed-media presentation featuring Shakespearean players and the author herself. This list would not be complete without it.
Honorable Mention at the Utterly Appropriate Number 11: Bigger on the Inside: Christianity and Doctor Who, edited by Gregory Alan Thornbury and Ned Bustard
This didn't make my list because it felt a little self-serving: after all, I wrote one of the essays in this collection. But in spite of that, I really loved the rest of these essays on Christianity and Doctor Who, so it had to be here anyhow.
Footnotes:
*A note on #2
- A few of the books I liked
did
make it into the Top 10 - as there were some incredible debut manuscripts. However, I will save them for 2016 reviews and lists (when they are actually released)

** A note on #6 -
Just went and saw the
Boruto
movie!
The fight scenes were so beautifully animated, it almost made me breathless. And it also made me love Sasuke and Naruto even more (impressive). And everyone's kids were just so darn cute! Oh, and it was a good movie too. Gave me all kinds of parental feels (despite the fact that I have exactly zero children, lol).