My avalanche of 1-3 star reads finally stopped this last weekend, when I picked up
Ryan Graudin
's
Wolf by Wolf
. Thank you to Little Brown and Co. Books for Young Readers/Hachette Book Group for this ARC! (
Wolf by Wolf
will be available October 6th, 2015)
Note: Cover and quote might not be final.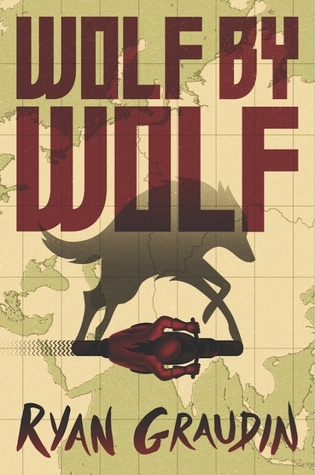 Love this cover.
"These were the names she whispered in the dark.

These were the pieces she brought back into place.

These were the wolves she rode to war."
I read The Walled City earlier this year, and really enjoyed it. Wolf by Wolf was better, with a tighter story and more developed main characters. Like with TWC, Wolf by Wolf takes actual history for its inspiration. But this time, there's a fantasy twist. Here's a rundown for you:
Set in an alternate 1956, Wolf by Wolf imagines a world where the Axis powers reign triumphant, and their victorious alliance is celebrated each year by a cross-country motorcycle race. The 1955 victor was the only girl, Adele Wolfe, and she had a rare opportunity to dance with Hitler himself after winning the race. That up-close look at the elusive

Führer

is one that resistance groups would gladly die for. But it seems impossible.
Yael, a young resistance member, just might be able to make the impossible happen. A Jewish girl who survived terrible experiments and escaped from concentration camp, Yael can skin-shift, altering her appearance to resemble any girl she has seen. If she can imitate Adele Wolfe, infiltrate the race, and win, Yael might get close enough for a second Operation Valkyrie.
Yael has been trained to fight and survive, and she has spent the last year practicing both racing and imitating Adele Wolfe down to the tiniest detail, but there are two major problems: Luka, who has a bitter romantic history with Adele, and much more serious, Adele's twin brother Felix. Yael will have to fool them both, and defeat them along with all of the other competitors, if she wants to complete her mission.
Alternate history, what-ifs, human experiments, motorcycles, infiltration, how could this not sound amazing? But all that aside, this was a strong novel with an epic concept. And here are five reasons you should read it:
1. Yael.
I loved Yael so much. A little Winter Soldier and all survivor, she was sympathetic, hardcore, and brave. She (understandably) had a hard time trusting others, but she wasn't afraid to love or feel for the people in her past. She wanted to think well of people, and she put her mission ahead of her own interests.
Also, I
loved
her interactions with Adele's brother Felix. Felix was brave, adorable, and loyal and Yael really didn't know how to handle this. Humor, and some surprisingly touching moments, resulted from this. (But she's not Adele, so, ouch!)
2. The story.
I really enjoyed the movie
Valkyrie
, and I find revolution/resistance novels tend to resonate with me.
Wolf by Wolf
was definitely character centered, with Yael's inner war against the Axis ideals, and what it took from her, taking more of the focus than the overall plot. Also, the fact that Yael was Jewish, while important to the story, wasn't shoved in your face. Likewise with a cast of mainly German and Japanese teens.
3. Alternate history.
Though Graudin definitely had to bend and shape history to her story, she did a great job of projecting how the world might have looked if things were different. From the tensions between Germany and Japan, to the disinterest of the US, to the eventual fall of Britain, it felt like she put a lot of time and thought (and research) into this historical fantasy novel.
4. The skin-shifting.
I guess this relates to #1. I loved how the story just went with this slightly outrageous premise. I mean, scheming Nazi scientists? But it just worked, and the shifting was worked into the greater themes and character development. Also, Yael's ability reminded me a bit of X-Men's Mystique. Yael had similar identity problems due to always wearing someone else's face. Also like Mystique, she tended to distance herself from her feelings and thoughts because of this.
5. Nothing was neat, tidy, or easy.
Everything from the motorcycle race, to the ending, to Yael herself unraveled a bit. There was no quick fix. Especially when it came to playing Adele while dealing with Luka and Felix. Yael was always teetering toward failure, and I really wasn't sure (till the end) how things would pan out. That's a rare occurrence.
Minor Quibbles:
Yes, I loved this book so much, but I did have a few tiny issues. Like with TWC, the characters (other than Yael) were a bit thin for my liking. In particular, I would have liked to read more about the Japanese racers (there was some, but I wanted more).
Luka was a James Dean meets Thor type, and I wasn't particularly interested in reading about him, but that's purely personal. However, I
did
like how Yael handled his interactions with "Adele." Talk about an interesting situation there.
Other than that, this was one of my favorite books this year, and I am so thrilled that she is writing a sequel! The fallout from the ending just begs another round, and Yael is a heroine I would gladly read a series about.
Overall: 5 out of 5 stars. An exciting alternate history with a strong heroine, lots of action, and a fascinating premise. Recommended for fans of The Hunger Games, Valkyrie, The Scorpio Races, The Maze Runner, Code Name Verity and X-Men.