Happy Monday!

It is foggy and rainy in Michigan (and a little colder than the past few weeks). But there is no April snow, so it's all good.

Monday's meme is from Sheila over at Book Journey, and here's her write up:
"Welcome to It's Monday What Are You Reading? The meme that we use to share what we read this past week and what our plans are for the upcoming week. It's a great way to see what others are reading and add to your own To Be Read list. :D You never know where that next great read may come from!"
(quote from Sheila's meme post here)
So I've started a lot of books in the past few weeks. I'm not sure if all of them will be worth finishing, it's too early to tell.
Most Recent: Uprooted by Naomi Novik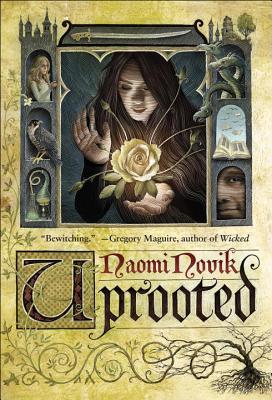 Here's the Goodreads excerpt:
"Our Dragon doesn't eat the girls he takes, no matter what stories they tell outside our valley. We hear them sometimes, from travelers passing through. They talk as though we were doing human sacrifice, and he were a real dragon. Of course that's not true: he may be a wizard and immortal, but he's still a man, and our fathers would band together and kill him if he wanted to eat one of us every ten years. He protects us against the Wood, and we're grateful, but not that grateful."
(Goodreads)
I just started this, so I have no impressions other than about the cover. IT'S GORGEOUS. Also, I'm kind of scared to start it, as the Goodreads reviews compare it to some of my all-time favorite novels. I don't want to get my hopes up, you know? And yet, I can't help being excited . . .
Next up is Ross Poldark (Poldark #1) by Winston Graham
I'd be lying if I pretended I'd heard much about this series before the BBC rebooted it for Masterpiece with Aidan Turner as Ross. In fact, I've been deriving an enormous amount of hilarity from the drippy posts and memes BBC has been posting on Facebook. The blurb on Goodreads didn't really grab me either:
"
Ross Poldark returns to Cornwall from war, looking forward to a joyful homecoming with his family and his beloved Elizabeth. But instead he discovers that his father has died, his home is overrun by livestock and drunken servants, and Elizabeth, having believed Ross dead, is now engaged to his cousin. Ross must start over, building a completely new path for his life, one that takes him in exciting and unexpected directions" (Goodreads)
Sounds boring, honestly. But I was inundated by Poldark, and I finally decided to give it a shot. It's pretty typical historical epic: wronged hero who is noble but makes some bad decisions (obnoxious, bad decisions), brooding (much brooding), a sort-of love triangle (square?), sweeping moors, a privileged upper class, and the downtrodden. In other words, I'm enjoying it so far.
So, thanks, BBC, even if you insinuate that this is the only reason we should notice Poldark:
I promise I picked this up for more than the cover:
Beautiful
Anyhow, it seems a little romantic for my tastes, but I love fairytales and historical fiction, so I'm giving it a chance. Here's a Goodreads blurb:
"Award-winning author Kate Forsyth braids together the stories of Margherita, Selena, and Charlotte-Rose, the woman who penned Rapunzel as we now know it, to create what is a sumptuous historical novel, an enchanting fairy tale retelling, and a loving tribute to the imagination of one remarkable woman."
Sounds pretty good, right? We shall see.
So that's it for this week. Did you start (or finish) any interesting books today? I'm still plowing through the wonderful (but long)
The Greatest Knight
, which is about the fascinating life of William Marshall. It's a little hard to read in the tiny snatches of time I have, so I don't know how long it will take me . . .
Cheers!